Acupuncture and moxibustion for stress-related disorders
BioPsychoSocial Medicine
The official journal of the Japanese Society of Psychosomatic Medicine
2014
8:7
Received: 30 June 2013
Accepted: 20 January 2014
Published: 24 January 2014
Abstract
Acupuncture and moxibustion, which medical doctors are licensed by the government of Japan to perform, can improve the psychological relationship between doctors and patients, especially when it is disturbed by a "game", a dysfunctional interpersonal interaction that is repeated unintentionally. This advantage is due to the essential properties of acupuncture and moxibustion. Acupuncture and moxibustion are helpful in treating somatoform disorders, especially musculoskeletal symptoms. In Japan, a holistic acupuncture and moxibustion therapy called Sawada-style has been developed. This is based on fundamental meridian points that are considered to have effects on central, autonomic nervous, immune, metabolic, and endocrine systems to regulate the whole body balance. In addition, some of the fundamental points have effects on Qi, blood, and water patterns associated with major depression, generalized anxiety disorder, eating disorders, and somatoform disorders. The fixed protocol of Sawada-style would be suitable for large-scale, randomized, controlled studies in the future. Recent systematic reviews indicate that electroacupuncture would be a useful addition to antidepressant therapy for some symptoms accompanying fibromyalgia. Acupuncture and moxibustion are also recommended for irritable bowel syndrome, instead of Western drug therapy. Surprisingly, the dorsal prefrontal cerebral cortex, which is associated with a method of scalp acupuncture applied for gastrointestinal disorders, has been found to be activated in patients with irritable bowel syndrome. It is quite possible that regulation of this cortical area is related to the effect of scalp acupuncture. This acupuncture method can be effective not only for irritable bowel syndrome but also for other stress-related gastrointestinal disorders.
Keywords
AcupunctureMoxibustionStressFibromyalgiaFunctional gastrointestinal disorderIrritable bowel syndromeAutonomic nervous systemHypothalamo-pituitary adrenal axisSawada-style holistic therapy
Introduction
If a general practice doctor rules out typical disorders and fails to make a clinical decision in the case of a patient with a chronic complaint, the patient tends to be labeled as having an indefinite complaint and is advised to consult a psychiatrist on the grounds that the symptoms are just imaginary. The Japanese word meaning "imagination" is "Qi-no-sei", which can also be translated as "because of Qi". In order to treat such a patient, supplying or regulating Qi by acupuncture would be effective.
Table
1
shows the causes of each of five visceral dysfunctions according to traditional Chinese theory. As shown, as many as three of five viscera are vulnerable to psychological stress. Therefore, oriental medicine has an affinity to psychosomatic medicine.
Table 1
The causes of dysfunctions of the five viscera according to traditional Chinese theory
| Cause of dysfunction | Heart | Liver | Spleen | Lung | Kidney |
| --- | --- | --- | --- | --- | --- |
| Aging | ○ | | | | ○ |
| Psychological stress | ○ | ○ | ○ | | |
| Chronic dysfunction of other organs | ○ | ○ | | ○ | ○ |
| Infection | | ○ | | ○ | |
| Disregard for health | | ○ | ○ | | ○ |
| Environmental stress | | ○ | ○ | ○ | ○ |
| Congenital | | ○ | | ○ | ○ |
This review discusses (1) the advantages of the use of acupuncture and moxibustion by psychosomatic medical doctors, (2) The specific effects of acupuncture and moxibustion on musculoskeletal symptoms, (3) Japanese-style holistic acupuncture and moxibustion, to harmonize the whole body with regard to the mechanism of action, and (4) The effectiveness of acupuncture for fibromyalgia [1], chronic pain [1], and psychosomatic gastrointestinal disorders [2].
Improvement of the psychological relationship between the patient and the therapist under the Japanese Medical Administration System for acupuncture and moxibustion
In China and Korea, the medical license for oriental medicine is completely independent of that for occidental medicine. In the same way, a license for acupuncturists and moxa-cauterizers is issued to those who pass a national examination in Japan. However, acupuncture and moxibustion are also permitted to all Japanese medical doctors, without the need for the specialist license. This Japanese system has many advantages. It is an advantage of the Japanese medical service system that medical doctors can choose between nerve block and acupuncture according to the condition of the patient [3]. In addition, physical contact through acupuncture or moxibustion can establish rapport if the psychological interview is difficult due to alexithymia or negativism. In Japan, a needle is inserted with a fine tube as a guide for the needle. A Japanese acupuncturist, Sugiyama, developed this technique. Since a tube surrounds the point of insertion, there is little insertion pain. This can soften the resistance to acupuncture, even by patients with excessive anxiety, and it helps establish and maintain confidence in the relationship between the patient and the therapist.
Nakamura et al. reported in a factor analysis of 197 patients that the attentive attitude of the therapist and proper touching by the therapist were significantly associated with a decrease in the subjective symptoms by acupuncture and moxibustion therapy, while the physical factors of the therapeutic stimulation were not [4]. These results indicate that acupuncture and moxibustion therapy is a kind of psychotherapy, which may be of assistance in establishing the psychological therapist-patient relationship, rather than a physical therapy.
According to transactional analysis theory, the therapeutic structure of acupuncture and moxibustion itself is sometimes helpful to escape from a "game" between the patient and the therapist. This is an acupuncture-specific effect and not the case with Kampo medicine. I previously reported that acupuncture broke down a "game" in the treatment of a patient with fibromyalgia who had been treated for 10 years and who had been unable to work for more than 12 hours per week [5]. The therapy had been disturbed by a hyperreactive action of the patient against the minimal touch by the acupuncturist, due to systemic hyperalgesia. A "yes, but" game was found between the patient and therapists. Searching for tender points, which is necessary and essential for acupuncture therapy, was of assistance in escaping from this "game" and enabled therapy for symptoms such as general fatigue. As a result, the patient acquired the ability to work for 23 hours per week, in addition to relief of pressure pain. This suggests that acupuncture therapy is suited to the treatment of patients with chronic, marked pain.
Musculoskeletal symptoms
Knowledge of acupuncture and moxibustion is especially helpful for treating musculoskeletal symptoms, which are often complained of by patients with somatoform disorders, as mentioned below. The principle of acupuncture therapy depends on the three dimensional location of the complaint, since meridian points are selected from among the points that belong to the meridian that passes through the location of the symptom. This is also an essential difference between acupuncture and Kampo medicine, which is administered to the whole body, although a few Kampo formulas, such as formulas tonifying the kidney, tend to have an effect on lower energizer. The correspondence between the location of the symptoms and meridian points is much more complicated, since as many as twelve main meridians and six extra meridians run longitudinally, except for the belt vessel, and cross each other at crossing points.
The case of a patient who was admitted with characteristic chronic lower dorsalgia, along with a feeling of tightness around the nipples, is shown in Figure
1
. This patient had been diagnosed as having a chronic pain disorder and was under nonspecific treatment for chronic pain disorder, such as cognitive behavioral therapy including reading on Morita therapy and autogenic training, for four months. However, acupuncture therapy, which is specific for these symptoms, would have been more effective, since the symptoms closely resembled the symptoms due to dysfunction of the gallbladder ching muscle. There are twelve ching muscle systems in the human body. All of these are superficial lines, which run longitudinally between the head and extremities and are mainly associated with relatively superficial musculoskeletal symptoms, unlike the normal meridians that run deeply and are related to the viscera and bowels. Although each ching muscle runs along the corresponding main meridian, it merely indicates that multiple kinks tend to appear along the line, like a fictional, long, single muscle that has kinks. As shown in Figure
2
, the gallbladder ching muscle runs from the third crural finger and ascends along the lateral side of the whole body. On the way, its branch lines adhere to bones or skin structures such as the nipples [
6
]. The symptoms due to dysfunction of this route closely resemble the complaints shown in Figure
1
, and the kinks of the alternative lines across the nipples in Figure
2
may explain what the patient complained of as tightness around the nipples.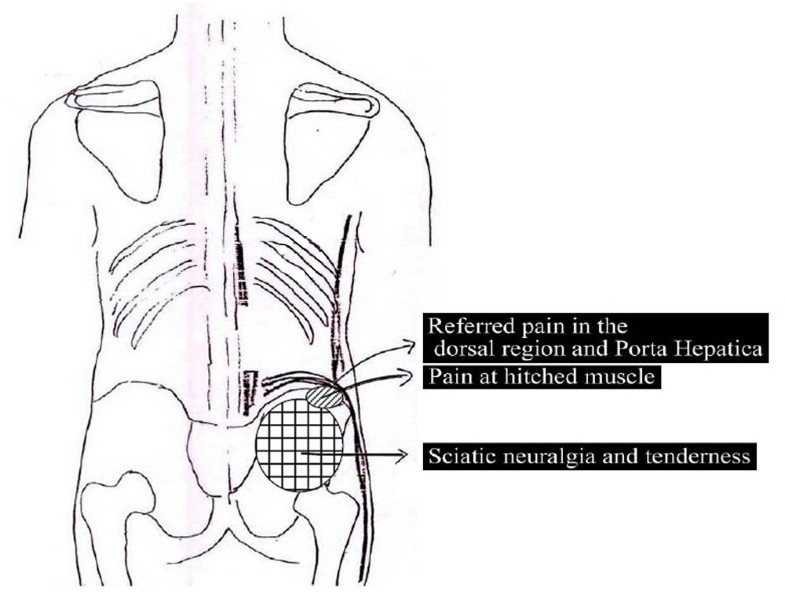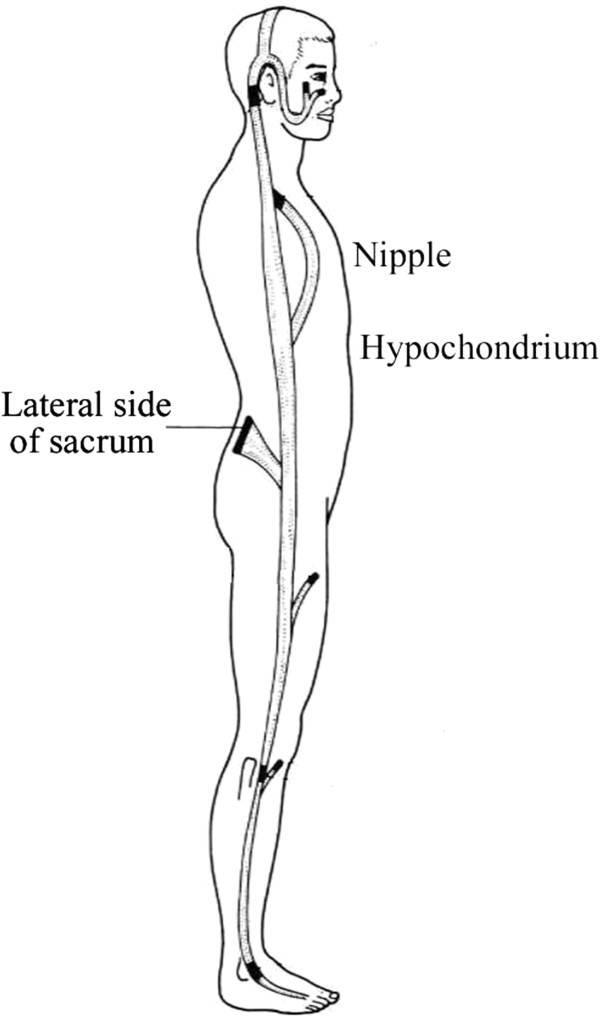 Acupuncture and moxibustion for systemic regulation of the autonomic nervous, central nervous, immune, and endocrine systems
Effectiveness of acupuncture on fibromyalgia
A meta-analysis found no statistically significant effect of acupuncture on fibromyalgia [45]. However, if electroacupuncture is distinguished from manual acupuncture, the result is different [46]. In particular, randomized, controlled studies using a combination of high and low frequencies for three weeks showed a statistically significant difference between real and sham acupuncture [47]. Since this study was a randomized controlled study with sham acupuncture, the non-specific physiological effects of the insertion of needles in the control group could be excluded in addition to psychological placebo effects. In addition, Ezzo et al. reported the synergistic effect of acupuncture and antidepressants on pain, depression, and insomnia [1].
Effectiveness of acupuncture on functional gastrointestinal disorders
Hypersensitivity of most of the digestive organs, especially in depressive patients, is known to contribute to painful functional disorders, such as irritable esophagus, functional dyspepsia, biliary dyskinesia, and irritable bowel syndrome. Xing et al. have reported that acupuncture, but not sham acupuncture, significantly increased the threshold of the rectal sensation of gas, desire to defecate, and pain, as compared to a control [48]. Recently, a meta-analysis reported that acupuncture-moxibustion for irritable bowel syndrome is better than the conventional Western drug therapy [49].
Although the evidence level is lower than for irritable bowel syndrome, Xu et al. found that regular acupuncture had better therapeutic effects and fewer side effects in improving gastric motility and relieving discomfort sensations in functional dyspepsia compared to internationally accepted medicines such as cisapride and motilium [50].
Recently, activation of the right dorsal prefrontal area in patients with irritable bowel syndrome [51] and stress-induced visceral hyperalgesia [52] has been reported. Functional MRI has shown that activation of such regions as the prefrontal area is associated with a low visceral pain threshold in patients with irritable bowel syndrome [53]. The activation of this area and visceral pain was reduced by amitriptyline [54].
According to Jiao's scalp acupuncture theory, stimulation of the scalp over the cerebral cortex has an effect on the functional localization corresponding to that of the cerebral cortex [55]. Actually, it was reported that scalp acupuncture in the forehead area changed the glucose metabolism in the cortex beneath [56]. Interestingly, the right dorsal prefrontal area is anatomically beneath Jiao's "stomach area" and "intestinal area" on the scalp according to scalp acupuncture theory. Scalp acupuncture in these areas may influence the neural activity in the right dorsal prefrontal area. Therefore, it would be quite rational to stimulate this area as a therapy for irritable bowel syndrome. Although there have been few reports on scalp acupuncture for irritable bowel syndrome, a randomized controlled study in which the effects of scalp acupuncture were directly compared with those of western medication was done [57]. Neither a placebo effect nor non-specific physiological effect of the insertion of acupuncture needles in the control group could be excluded since neither a placebo nor sham control group was set. However, it was shown that scalp acupuncture in Jiao's stomach area and intestinal area was significantly more effective for diarrhea-type irritable bowel syndrome than was western drug therapy.
Conclusions
Acupuncture and moxibustion are helpful for improving the psychological relationship between the therapist and the patient, especially with respect to a negative "game", and they are especially effective for chronic pain, fibromyalgia, irritable bowel syndrome, and functional dyspepsia, even if serotonin reuptake inhibitors have already been administered. Japanese Sawada-style holistic therapy can regulate the whole body with effects on brain monoamines and the autonomic nervous, immune, metabolic, and endocrine systems.
Abbreviations
HPA axis:

Hypothalamo-pituitary adrenal axis.
Declarations
Acknowledgements
We are deeply grateful to Dr. T. Oka for his support in constructing the paper.
Authors' Affiliations
(1)
Kansai University of Health Sciences, Kumatori-cho, Sennan-gun, Japan
Copyright
© Kondo and Kawamoto; licensee BioMed Central Ltd. 2014
This article is published under license to BioMed Central Ltd. This is an open access article distributed under the terms of the Creative Commons Attribution License (http://creativecommons.org/licenses/by/2.0), which permits unrestricted use, distribution, and reproduction in any medium, provided the original work is properly cited.