Relations of self-regulation and self-efficacy for exercise and eating and BMI change: A field investigation
BioPsychoSocial Medicine
The official journal of the Japanese Society of Psychosomatic Medicine
2010
4:10
Received: 20 May 2010
Accepted: 3 September 2010
Published: 3 September 2010
Abstract
Objectives
This study aimed to assess relations of self-regulatory skill use with self-efficacy for exercise and appropriate eating, and the resulting change in weight associated with participation in a nutrition and exercise treatment supported by cognitive-behavioral methods.
Methods
Adults with severe obesity (N = 95; mean BMI = 40.5 ± 3.9 kg/m2) participated in a 6-month exercise and nutrition treatment emphasizing self-regulatory skills. Changes in self-regulatory skills usage, self-efficacy, overall mood, and BMI were measured. Relations of changes in self-regulatory skill use and self-efficacy, for both physical activity and appropriate eating, were assessed, as was the possibility of mood change being a mediator of these relationships. Indirect effects of the variables associated with the present treatment on BMI change were then estimated.
Results
For both exercise and appropriate eating, changes in self-regulation were associated with self-efficacy change. Mood change partially mediated the relationship between changes in self-regulation for appropriate eating and self-efficacy for appropriate eating. Self-efficacy changes for physical activity and controlled eating, together, explained a significant portion of the variance in BMI change (R2 = 0.26, p < 0.001). The total indirect effect of the treatment on BMI change was 0.20.
Conclusion
Findings suggest that training in self-regulation for exercise and eating may benefit self-efficacy and weight-loss outcomes. Thus, these variables should be considered in both the theory and behavioral treatment of obesity.
Keywords
Total Indirect EffectTotal Mood DisturbanceBehavioral Weight Loss TreatmentWeight Management BehaviorPsychological Pathway
Background
Results of standard weight-loss treatments have been disappointing [1]. Although regular exercise and appropriate eating will manage weight, individuals are not typically able to successfully negotiate common barriers such as time pressures, discomfort, and social pressures, over time, and typically regain any weight lost in short order [2]. This pattern is so typical that treatments are usually evaluated by percentage of weight regained, rather that if weight loss is maintained [3]. Because of poor prospects with such approaches, surgeries such as gastrointestinal bypass, vertical banded gastroplasty, and laparoscopic gastric banding are increasingly the weight-loss treatments of choice for those with class 3 obesity (body mass index [BMI] ≥ 40.0 kg/m2) and class 2 obesity (BMI 35.0-39.9 kg/m2) with one or more comorbidities [4]. Although behavioral weight loss treatments have often been atheoretical, and dependent largely on persons responding to information on appropriate eating and exercise (where there is little evidence of success), accepted behavioral theories have sometimes been used as a basis for intervention strategies [5].
Self-efficacy theory, for example, posits that people's judgments of their capabilities to carry out actions will predict their behaviors, and suggests that self-efficacy may be increased through attainment of prior success, imitating others' performance, verbal and social persuasion, and perceptions that positive psychological states may be achieved [6]. Researchers posit that self-efficacy is a precondition of behavior change [7]. Although increases in self-efficacy have been attempted through such general methods as encouragement and observation of the success of others, it is possible that purposefully fostering self-regulatory skills use (eg, cognitive restructuring, stimulus control) early in a treatment will induce increased self-efficacy over time. It has been suggested that "behavioral self-regulation" [[8], p 545] and "coping responses" [[9], p 38] will lead to self-efficacy and improved outcomes because of their direct connection with overcoming barriers and establishing feelings of competence and success. Because low mood has been shown to be associated with reduced use of self-regulatory skills and perceptions of self-efficacy [10], and positive changes in mood may promote a "healthier psychological climate" that enhances confidence in pursuing weight management behaviors [[11], p 320], the established effects of exercise program participation on improved mood [12] may mediate (significantly reduce or cancel out the relationship between two variables by its entry) this relationship. It has been suggested that treatments should first be based on accepted theory, and then their effects decomposed to determine if changes in variables consistent with the theory predicted outcomes as expected [13]. Such a thorough analytic approach has often been lacking in weight-loss research.
Thus, the present investigation aimed to test a treatment of exercise and nutritional support, based on tenets of self-efficacy theory, which emphasized self-regulatory skills. It was thought that the treatment would be associated with significant increases in measures of self-regulatory skills usage, self-efficacy, and mood. More specifically, changes in self-regulatory skills were expected to be associated with changes in self-efficacy for both physical activity and appropriate eating, but be significantly mediated by mood changes. Additionally, a significant portion of the variance in BMI change was expected to be accounted for by changes in self-efficacy for physical activity and appropriate eating.
Formerly sedentary adults with class 2 and 3 obesity were selected for participation because of the considerable need for a better understanding of theory-based psychological predictors of weight loss in these highly at-risk subgroups. It was hoped that increased knowledge of the effect of self-regulatory skills usage on self-efficacy would yield important data for weight management theory and application.
Results
All within-subject changes were significant. Change scores of measures of all predictor variables were approximately normally distributed and displayed in Table
1
.
Table 1
Within-subject changes and distributions of changes in self-regulation, self-efficacy, and mood measures, and BMI (N = 95).
t94

d

95% CI

Change scores

Skewnessa

Kurtosisb

Mean

SD

Mean

SD

Mean

SD

Baseline

Week 12

Self-reg-PA

20.05

5.49

26.03

8.03

7.29**

1.09

4.35, 7.61

5.98

7.99

0.64

0.01

Self-reg-EAT

21.06

5.87

25.16

6.95

7.20**

0.70

2.97, 5.22

4.09

5.54

0.70

0.10

Baseline

Week 24

ESE

30.45

12.41

33.57

11.19

3.04*

0.25

1.08, 5.15

3.12

10.00

-0.03

1.04

WEL

101.91

34.27

118.61

34.67

5.27**

0.49

10.41, 23.00

16.71

30.91

0.68

0.87

TMD

20.70

16.10

12.47

18.70

5.72**

-0.49

-11.08, -5.37

-8.23

14.03

-0.70

- 0.09

BMI (kg/m2)

40.49

3.91

39.29

4.07

6.52**

-0.30

-1.56, -0.83

-1.19

1.79 -

1.84

3.41
Relationships between changes in Self-reg-PA and ESE, and Self-reg-EAT and WEL were significant (Figure
1
). Only the latter relationship was partially mediated by TMD changes, Z = 2.57,
p
< 0.01. Approximately 26% of the variance in BMI change was explained by changes in ESE and WEL, which was significant, F
2,92
= 16.05,
p
< 0.001. Both corresponding β-values were also significant (Figure
1
). Relationships of the treatment with changes in Self-reg-PA and Self-reg-EAT were significant (Figure
1
). The total indirect effect of the treatment on BMI change was 0.20.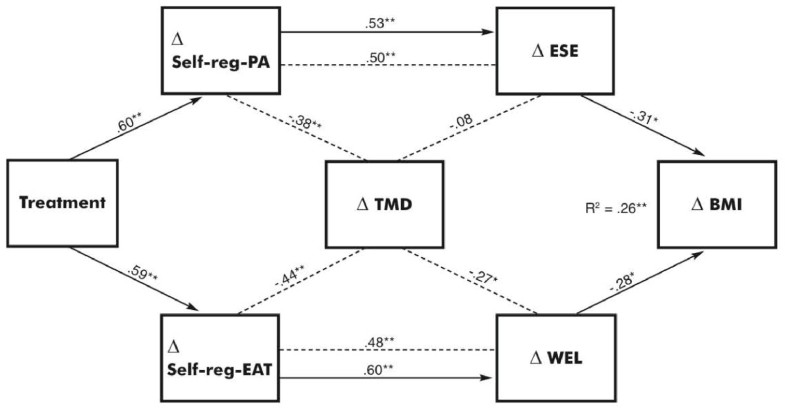 Discussion
As expected, the behavioral treatment emphasizing self-regulatory skills and exercise from treatment outset was associated with significant within-subject improvements in self-regulatory skill use, self-efficacy, and mood. Also as expected, increases in self-regulatory skill use over 3 months predicted increased self-efficacy over 6 months for both exercise and appropriate eating. As hypothesized, mood change had a significant relationship with changes self-regulation for appropriate eating, self-efficacy for appropriate eating, and their interrelationship, which manifested as significant partial mediation. Such relationships did not occur with the corresponding analyses for exercise.
Extensions of this research should seek to determine if mood decrements induce a propensity for acute episodes of low mood, and thus may reduce self-regulation and confidence in controlled eating ("emotional eating"), or whether longer-term negative mood is, alone, associated with self-regulation decrements and reduction in self-efficacy. Whether exercise program-induced improvements in mood enhance self-regulation and confidence for weight loss also requires consideration. Consistent with self-efficacy theory [6], perceptions of competence to overcome both barriers to physical activity and appropriate eating, together, explained a notable portion of the variance in BMI change. Thus, it makes sense to carefully attend to self-efficacy changes in future weight-loss treatment research, while additional psychological variables (eg, motivation, body image) that may lead to a more comprehensive prediction model of weight loss and maintenance should be investigated further.
Although of a somewhat brief duration with a volunteer sample, this study added to the minimal research on effects of behavioral weight-loss treatments for the severely obese through psychological pathways [30, 31]. It extended earlier propositions of the contribution of exercise participation to weight loss [11]. It has been proposed that for obese and formerly sedentary persons, the positive effects of exercise program participation on weight loss are more from its positive psychological effects than the minimal caloric expenditure initially possible [24]. There was indirect support for this here. Replications of this research are required across types of subjects (eg, specific ethnicities, ages, weight classifications, and sex) and under different medical circumstances (eg, diabetes, cancer, post-bariatric surgery) to assess generalizability of findings. Inclusion of control conditions will also be needed. It is recommended that, although challenges to internal validity exist due to social support and expectation effects, field-based research is a priority because of its easily translatable findings leading to prompt practical application [32]. Future research should extend examination of the relationship between self-regulation and self-efficacy, especially in the area of their directionality or reciprocality, and seek to refine behavioral models to maximize sustained weight loss through innovative, evidence-based treatments.
Conclusions
Cognitive-behavioral training in self-regulation may benefit self-efficacy for appropriate eating and exercise in obese adults seeking weight loss. Mood may partially mediate this relationship for eating. Exercise may promote weight loss through psychological pathways, and well beyond associated energy expenditures.
Declarations
Acknowledgements
The authors acknowledge the efforts of the wellness departments of participating YMCA facilities and Ms. Linda Vaughn for the collection and handling of raw data. This research was supported by a grant from Blue Cross Blue Shield of Georgia to the YMCA of Metropolitan Atlanta.
Authors' Affiliations
(1)
YMCA of Metropolitan Atlanta, Atlanta, USA
(2)
Southern Regional Health Systems, Bariatric Center, Riverdale, USA
Copyright
© Annesi and Gorjala; licensee BioMed Central Ltd. 2010
This article is published under license to BioMed Central Ltd. This is an Open Access article distributed under the terms of the Creative Commons Attribution License (http://creativecommons.org/licenses/by/2.0), which permits unrestricted use, distribution, and reproduction in any medium, provided the original work is properly cited.